Crane 120 9.0 Abc Products
ABC Crane 120-9.0. The Star, not only behind the Goal Posts! HDV, HD, Film. High weight capacity of 25kg (55.11 lb)
 
The Crane 120 rounds up the spectrum of the light cranes. It essentially differs by its expandability on up to 12 m [39.4 ft] arm length. With a specially engineered square tube
construction the crane is extremely stable and easy to assemble.
The crane is designed to easily support an ABC Remote-Head (optionally available) with a professional camera mounted on it permitting extremely smooth shots in studio or in the open.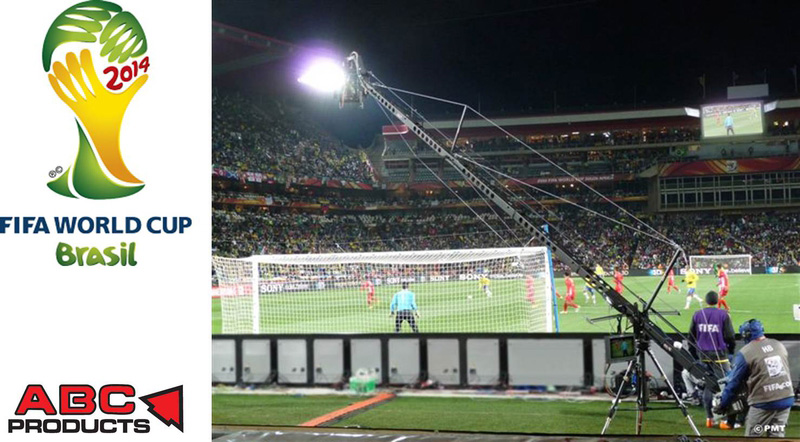 For 10 years now, ABC Products cranes are used for broadcasting the football worldcup and are thus well established pieces of equipment of the World and European Championships. Once more at the world cup in Brazil in 2014: 27 ABC Products Crane 120 9m with Remote Head Pelé are on the order list. In each stadium, three cranes will be positioned – two beyond the goals and one in the coaching zone.
High weight capacity of 25kg (55.11 lb) Light construction with square profiles 12 x 12 cm (4.72 inch), provides extreme rigidity!
Additionally, crane segments are bolted together for an optimum resistance to torsion!
Circular spaces in the segments provide for weight reduction High weight addition of 25 kg (55.11 lbs) in version 9m (29.52 ft)
Optimized Crane-head geometry centers the Remote Head in crane axis! Short assembling times! (complete assembly in a approx. 20 minutes!) 4 different assembly lengths incl. strengthened rig sets Universal deployable for high flexibility - deployment with strengthened "Bull Tripod or Dolly CD5/CD6"

For lightweight cameras I normally use an ABC crane with 2 axis remote head, easier and more short time setup, better handling for different sets configuration. I can bring with me an Sony FS5 camera with external Atomos recorder or Sony FS7. Normally the crane crew is handled by 2 people.
Official website see...
Crane 120 Instruction Manual see...